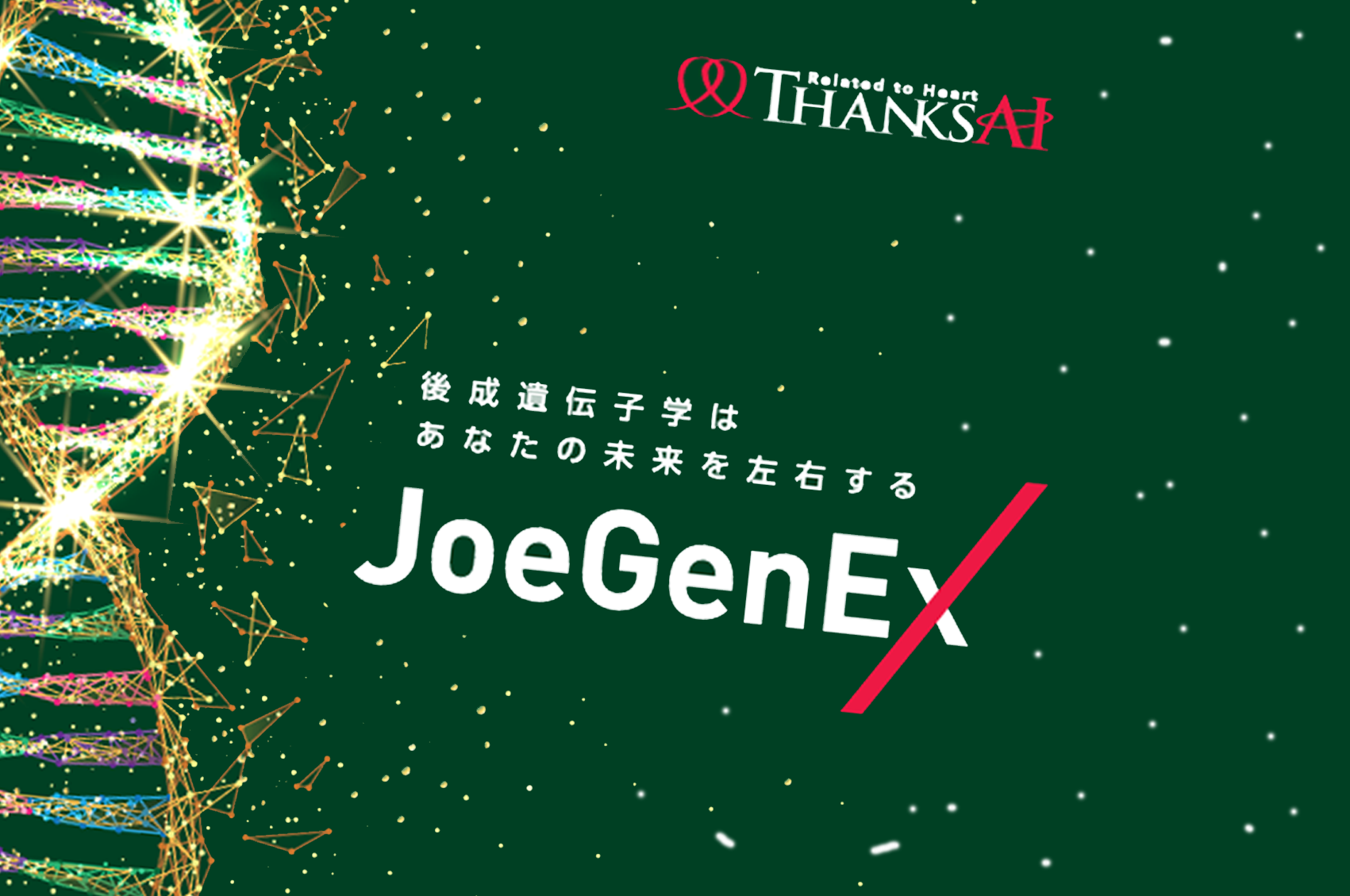 PRODUCT
JOEGENEX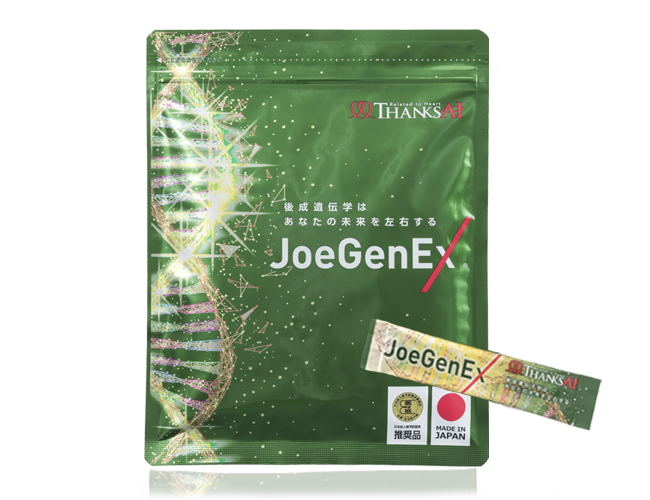 Epigenetics shapes your future
Phytochemicals bring about a healthier and wealthier life
This product is the optimal combination for phytochemicals selected from more than 10,000 varieties of plants. Dr. Joe E. Guarnera, a leader at the forefront of epigenetics research, integrated the 3 optimal combinations achieved over the last 40+ years of research to bring about a top-class dietary supplement, among which are 9 "natural botanical extracts", 13 types of "JoeSyn" and 5 types of "JoeMaF" made with the proprietary ingredients of Thanks AI, leading you to a healthier and wealthier future.

* Health foods are food, not medicine. Therefore, they cannot be used to explain the recovery of illness, prevention of illness, or improvement of symptoms, nor can they be used to explain medicinal effects or efficacy.

If an explanation should indicate effects or efficacy, even a food product will be in violation of the Pharmaceuticals and Medical Devices Law (the former Pharmaceutical Affairs Law). In addition, even if the effects or efficacy are not explained directly but rather implied, it will still be in violation of the law.


| | |
| --- | --- |
| Description: | JoeGenEx Botanical Extract Mineral Element [Powder food] |
| Ingredients: | Trehalose, curcuma powder, tequila syrup, indigestible maltodextrin, maltodextrin, momordica grosvenori extract, green tea extract, citric acid, guarana extract, natural perfume, silicon dioxide, lemon juice, iyokan juice, bilberry extract powder, grape extract, ginseng extract, tomato powder, apple juice, grapefruit juice, pineapple juice, musk grape juice, peach juice, blueberry juice, blackcurrant juice, raspberry juice, red chokeberry juice, papaya extract, Japanese pear juice, acai berry extract, new summer orange juice, noni powder, sea buckthorn extract, mangosteen extract, wolfberry extract, pomegranate extract, phyllanthus emblica extract, rose petal extract, acerola cherry juice, amur grape juice, nicotinic acid, bilberry juice, bergamot orange juice, aloe powder, sea mustard extract (including fucoidan), chilean wineberry extract, cherry extract, strawberry juice |
| Contents: | 15 bars/pack |
| JAN | 4573175510040 |
Usage method
①

Approximately 1 - 10 bars per day, consumed with water.
Warnings
・

Once opened, please consume as soon as possible for the best quality. In case of any uncomfortable reaction, please stop using immediately.

・

Since natural ingredients are used, the color tone and scent may vary, but there is no problem with ingredients and safety.

・

Check the ingredients and do not take if you are allergic.

・

If you are taking medicine, in hospital, or pregnant or breastfeeding, please consult your doctor before taking.

・

Keep out of reach of small children.
Click here to purchase this product