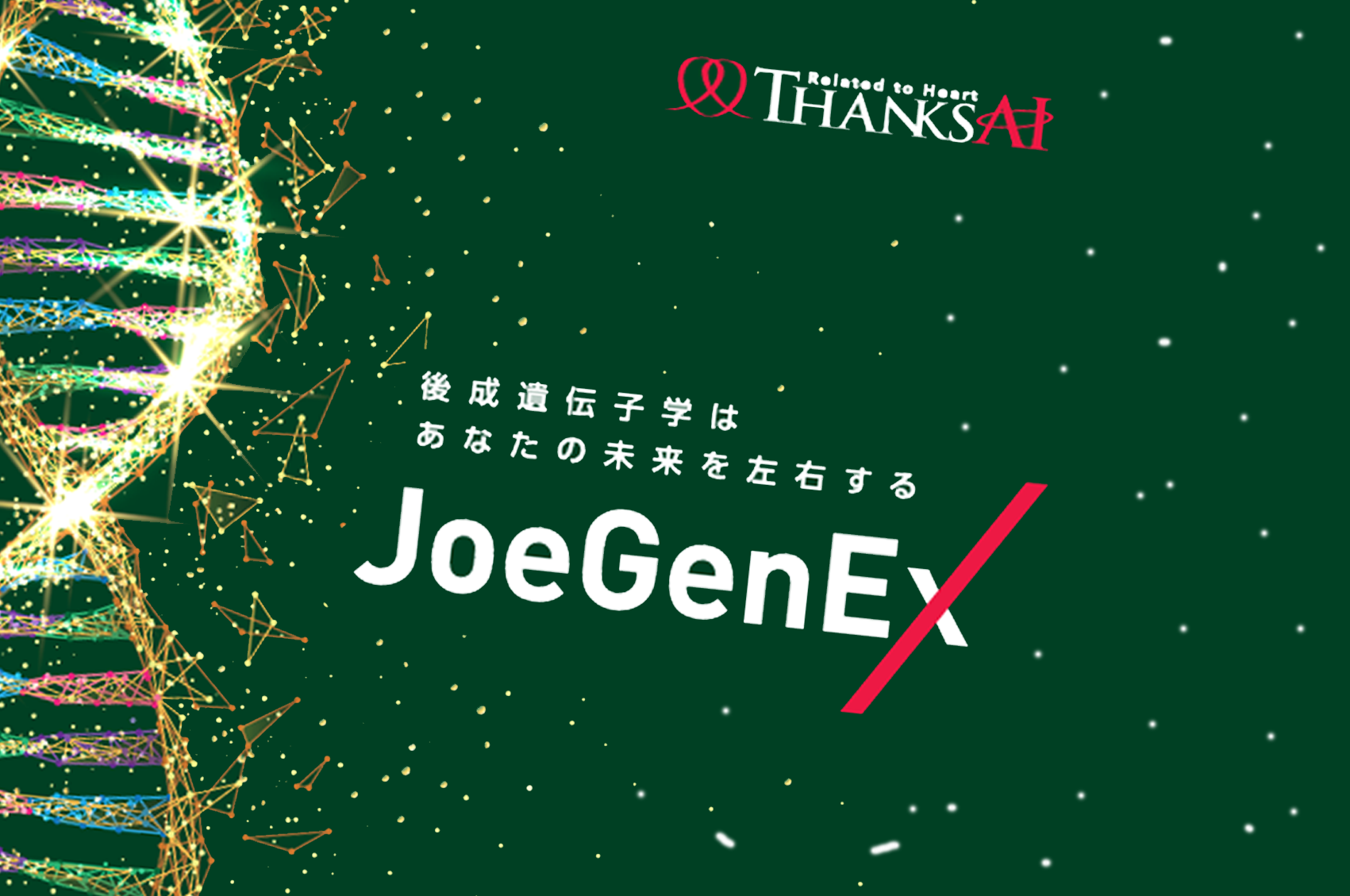 PRODUCT
JOEGENEX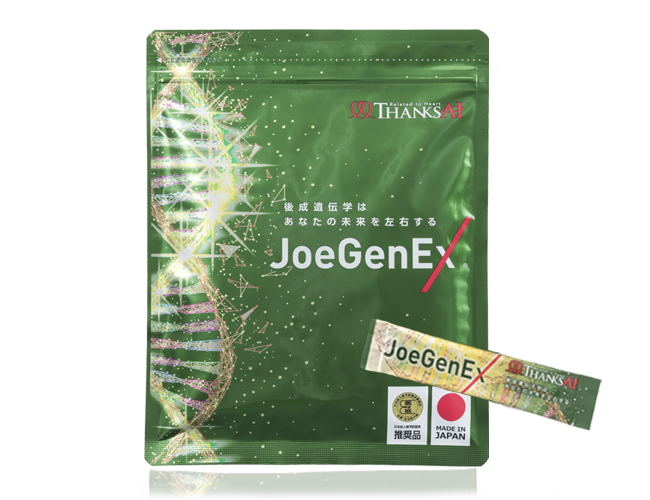 Dr. Joe, a leading researcher in epigenetics, has created a supplement that he says is his best work in 40 years.
This proprietary formula available only to Thanks AI pursues the synergistic effects of plant-derived nutrients and phytochemicals.
Phytochemicals born from epigenetics, the product of 40 years of research. The research of Dr. Joe, who is at the forefront of biomechanics and biochemical medicine, and Thanks AI's passion have come together to make each and every year healthier in terms of growth and aging, both of which begin from the moment of birth. "JoeSyn" and "JoeMaF", which pursue the synergistic effects of phytochemicals, are uniquely blended with "9 natural botanical extracts" which are only available to Thanks AI, and that Dr. Joe himself says is his best work in 40 years.

* Health foods are food, not medicine. Therefore, they cannot be used to explain any kind of "recovery from illness," "prevention of illness," or "improvement of symptoms," nor can they be used to explain medicinal effects or efficacy. Any explanation of effects or efficacy is subject to violation of the Pharmaceuticals and Medical Devices Law (formerly the Pharmaceutical Affairs Law), even if the product is a food. Furthermore, any indirect explanation of effects or efficacy, even implied, is a violation of the law.


| | |
| --- | --- |
| Description: | Processed food containing fruit juice and curcumin extract |
| Ingredients: | Curcumin extract powder (manufactured in India), agave inulin, indigestible dextrin, maltodextrin, monk fruit extract, green tea extract, guarana seed extract, lemon juice, iyokan fruit juice, bilberry extract powder, red grape extract, fermented Panax ginseng powder, tomato powder, apple juice, grapefruit juice, pineapple juice, muscat juice, peach juice, blueberry juice, blackcurrant juice, red raspberry juice, aronia juice, papaya extract, Japanese pear juice, acai extract, hyuganatsu juice, noni fruit powder, sea buckthorn extract, mangosteen extract, goji berry extract, pomegranate seed extract, amla extract, rose petal extract, cherry juice, wild grape juice, lingonberry juice, shiikuwasa juice, aloe vera powder, mekabu extract (containing fucoidan), Chilean wineberry extract, cherry blossom extract, strawberry juice,/trehalose, citric acid, flavoring, silicon dioxide, niacin |
| Contents: | 15 packets/bag |
| JAN | 4573175510040 |
| Certificate of Analysis | CERTIFICATE OF ANALYSIS |
Usage method
①

Take 1 to 10 packets per day with water or other liquids.
Warnings
・

Please consume as soon as possible after opening. If the product does not suit your constitution, please stop using it.

・

Since natural raw ingredients are used, there may be variations in color tone, odor, etc., but this does not indicate a problem with the ingredients or safety.

・

Check the ingredients and do not ingest if you are allergic to any of them.

・

If you are taking medication or visiting the hospital, or if you are pregnant or breastfeeding, please consult your doctor before taking this product.

・

Keep out of the reach of small children. Keep a balanced diet based on a staple meal, main dishes, and side dishes.
Click here to purchase this product