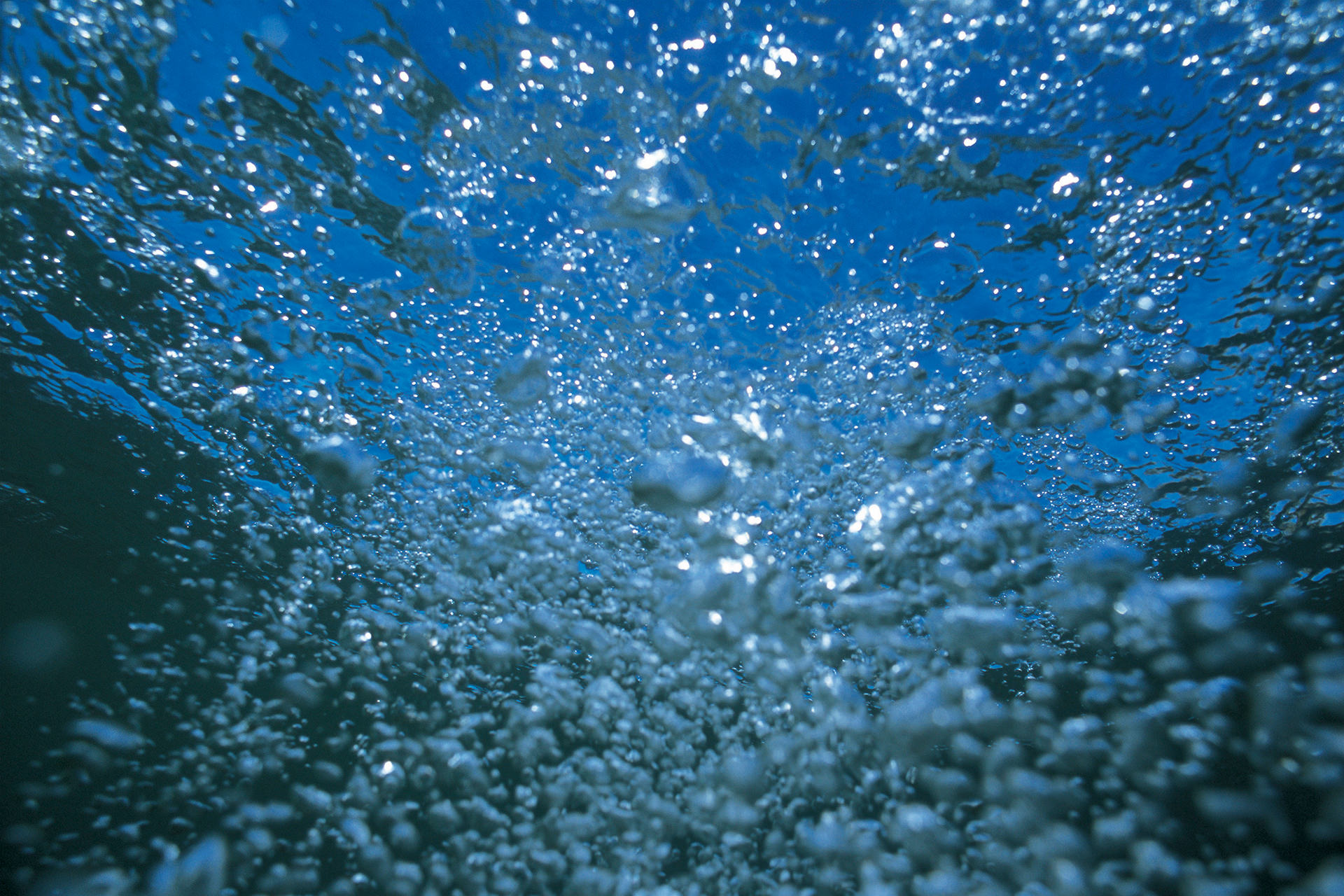 PRODUCT
KAWAII ESSENCE AI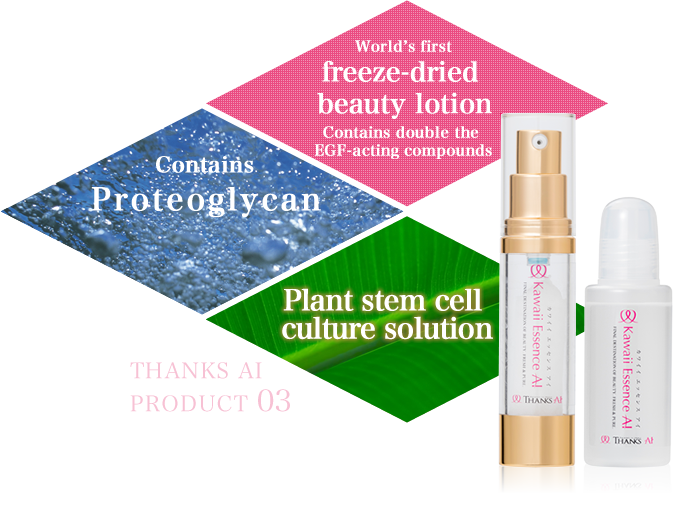 Updated


Start to maximize the potential
of your beauty

The beauty lotion "KAWAII ESSENCE AI" is a luxurious blend of beauty ingredients including plant minerals, proteoglycans, plant stem cell culture extract (edelweiss callus culture extract), and hyaluronic acid that gives your skin what it needs. "KAWAII ESSENCE AI" is a beauty lotion produced meticulously without any additional preservatives that will maximize the potential of your beauty.

13 types of plant extracts
- Resveratrol
- Aloe vera leaf extract
- Artichoke leaf extract
- Peony root extract
- Plantago major seed extract
- White willow bark extract
- Horse chestnut extract
- Houttuynia cordata extract
- Geranium robertianum extract
- Bilberry leaf extract
- Mandarin orange peel extrac
- Chamaemelum nobile flower extract
- Wild thyme extract
No added preservatives

Modern cosmetics are required to display all of their ingredients on the label, but in fact there are many exceptions where "carry-over" compounds used to produce extracts or stabilize ingredients (typical examples include antioxidants and preservatives) do not need to be displayed. In other words, despite containing preservatives, they appear to be preservative-free. THANKS AI has achieved preservative-free cosmetics, even taking these carry-over compounds into account. This is truly a preservative-free beauty lotion.

Freeze-drying - the secret to being preservative-free

After investigating how to get our products onto skin in high concentrations and without preservatives, we found the freeze-drying method to be ideal. KAWAII ESSENCE AI uses freeze-drying to dry the beauty lotion compounds, enabling them to be completely preservative-free. Also, the manufacturing and freeze-drying processes are done at the hands of skilled technicians, who manufacture our products under strict quality control standards.

The airless bottle - achieving lasting freshness

When exposed to the air, cosmetics oxidize and their quality degrades. So, for KAWAII ESSENCE AI , we used an "airless bottle" that keeps your product from being exposed to the air until you are finished using it. It enables you to use fresh beauty lotion to the last drop.

Start-to-finish production at our factory in Japan

To ensure quality in its components and manufacturing, KAWAII ESSENCE AI is produced from start to finish in our trustworthy factory in Japan.
Description
Beauty lotion in an airless container
Ingredients
Beauty lotion (all components)
Sodium hyaluronate, BG, trisodium ascorbyl palmitate phosphate, grape leaf/seed/skin extract, glycerin, edelweiss callus culture extract, resveratrol, hydrolyzed hyaluronic acid, poly(ε-lysine), soluble proteoglycan, aloe vera leaf extract, artichoke leaf extract, peony root extract, Plantago major seed extract, white willow bark extract, horse chestnut extract, Houttuynia cordata extract, Geranium robertianum extract, bilberry leaf extract, mandarin orange peel extract, Chamaemelum nobile flower extract, wild thyme extract, xanthane gum, citric acid

Solution (all components)
Water, glycerol, BG, 1,2-hexanediol, sodium hyaluronate, fulvic acid, ethylhexyl glycerol, tocopherol
Contents
20 ml each
JAN
4573175515137
Certificate of Analysis
COA of JAKIM accreditation organization
Usage method
Before use
①

Remove the transparent cap and the gold pump and pour the mineral solution up to about half of the container.

②

Reattach the cap and pump and shake firmly for about 13 seconds.

③

When the mineral solution has mixed well with the additive-free material (white component in the airless container), remove the cap and pump again.

④

Pour the remaining mineral solution up to the shoulder of the container, reattach the cap and pump and shake firmly for about 13 seconds.

⑤

Leave it for a few hours until the ingredients are completely dissolved. Keep in refrigerator and use up within one month.
Usage method
Please use plenty on the face and neck after your bath.
Gently massage into the body; it is effective to use more in areas of concern.
If your skin feels taut, you can apply a small amount of additive-free lotion.
However, avoid excessive massage around the eyes.
Warnings
・

Use with care to see if there is any abnormality on your skin.  If it does not suit your skin, discontinue use.

・

Keep out of reach of small children.

・

If abnormalities such as redness, swelling, itching, irritation, color loss (white spots) or darkening appear during use, or if these abnormalities appear when exposed to direct sunlight, please discontinue use immediately.
Continued use may worsen symptoms, so it is recommended that you consult a dermatologist or other specialist.
How to use this product that is committed to being additive free
This beauty lotion aims to be gentle to your skin without any preservatives whatsoever
by utilizing an airless freeze-drying technology.
After blending your own fresh beauty lotion, store it for up to one month in the refrigerator.
The white components in the airless pump container are the freeze-dried product, made with an airless freeze-drying technology.

Remove the clear cap and gold-colored pump and add about half of the mineral solution to the container.

Replace the clear cap and gold-colored pump and shake firmly for about 13 seconds.

Once the additive-free components have been dissolved into the solution, remove the cap and pump again.

Fill in the rest of the mineral solution to the brim of the container, replace the cap and pump, and shake again for 13 seconds.

Leave for a few hours and the lotion is ready once the materials have fully dissolved. Store in the refrigerator and use within one month.
How to use your lotion
Use a generous amount on your face and neck after getting out of the bath. Rub into your skin with a gentle massaging motion. Use more of the product on areas that you are worried about for greater effect. It is most effective if you avoid using other cosmetics as much as possible right before and after you use KAWAII ESSENCE AI
If you feel tightness in your skin, you can also apply the product on top of a small amount of additive-free lotion. However, please avoid massaging excessively around the eyes.
Click here to purchase this product