PRODUCT
NEW PREMIUM ESSENCE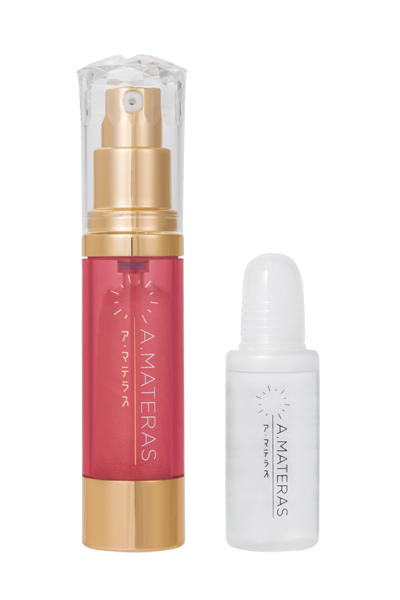 "Back Time Technology" will revolutionize the future of skincare.
The touch of destiny will transform your skin.
Rich in purified Japanese human dental pulp cell acclimated culture fluid, NMN supports youthfulness through energy metabolism, CBD is said to promote vital beauty, swallow nest fermentation extract, and phytopolyamines. The world's first unique manufacturing techniques prevent substances from deteriorating over time from processing, and three basic ingredient processes control dissolution time and penetration depth so that active substances are delivered to the skin in an optimal state. "Back Time Technology" is an innovative factor in skincare that preserves the freshness of substances and reverses skin age so that your skin will look as youthful and radiant as it did back then.
Name
Serum Airless Container
Ingredients
【Serum / Complete substances】
Sodium hyaluronate, betaine, trisodium ascorbyl phosphate palmitate, succinyl atelocollagen, nicotinamide mononucleotide, water-soluble proteoglycan, hydrolyzed hyaluronic acid, human dental pulp cell acclimation culture medium, niacinamide, cyclodextrin, human stem cell acclimation culture medium, soybean bud extract, sodium citrate, 1.2-hexanediol, cannabidiol, saccharomyces/anacardium fermentation fluid, wormwood oil

【Dissolver solution and substances】
Water, BG, glycerin, 1.2-hexanediol, betaine, cannabidiol, saccharomyces/anacardium fermentation liquid, bacillus ferment, leuconostoc/daikon root ferment, white willow bark extract, sodium hyaluronate, wormwood oil, squalane, PEG-60 hydrogenated castor oil.
Volume
20 ml
JAN code
4573175510057
Usage method
How to use
①

The snow-white consolidated formulation in the airtight container consists of freeze-dried, additive-free beauty substances preserved using vacuum freeze-drying technology.

②

Remove the white cap and rubber stopper and fill the container halfway with dissolver solution.

③

Attach the gold pump with the clear lid and shake vigorously for 13 seconds.

④

Remove the capped pump when the dissolving solution has been absorbed into the additive-free beauty substances.

⑤

Fill the container to the brim with the remaining dissolver solution, reattach the capped pump, and shake again for 13 seconds.

⑥

Allow standing for several hours. The product is ready to use when the beauty substances are entirely dissolved. Store in the refrigerator and use within one month.
Caution
Use with care to avoid skin problems. If the product does not agree with your skin, please stop use. Please stop using the product if you notice redness, swelling, itching, irritation, color loss (white spots, etc.), darkening, or any of these abnormalities during use, or if you notice any of these abnormalities occur when exposed to direct sunlight. Continued use of cosmetics may aggravate skin conditions, so we recommend consulting a dermatologist or other health care professional. In case of eye contact, rinse immediately with water or lukewarm water without rubbing.
Storage Precautions
Do not store in extremely high or low temperatures, direct sunlight, or high humidity. Keep out of reach of infants. After opening, close the lid tightly and use it within the indicated timeframe.